What if technology was the future of fashion?
What if?
Last November 2017, the Vogue Fashion Festival took place in Paris, and a speaker from the Tech world animated a conference which theme was the association of tech innovations within the fashion world. This speaker was Laurent Gaveau, Head of The Lab at Google Cultural Institute.
This Lab is a physical laboratory of "research and prototyping development" in Google's Paris headquarters that links the worlds of Arts and Culture to the tech world. This Lab enables engineers and artists to work together on projects related to the future of Arts and Culture, in a "test and learn" format. This space is thus, totally dedicated to artistic creative innovations, and is more and more interesting itself to the world of fashion.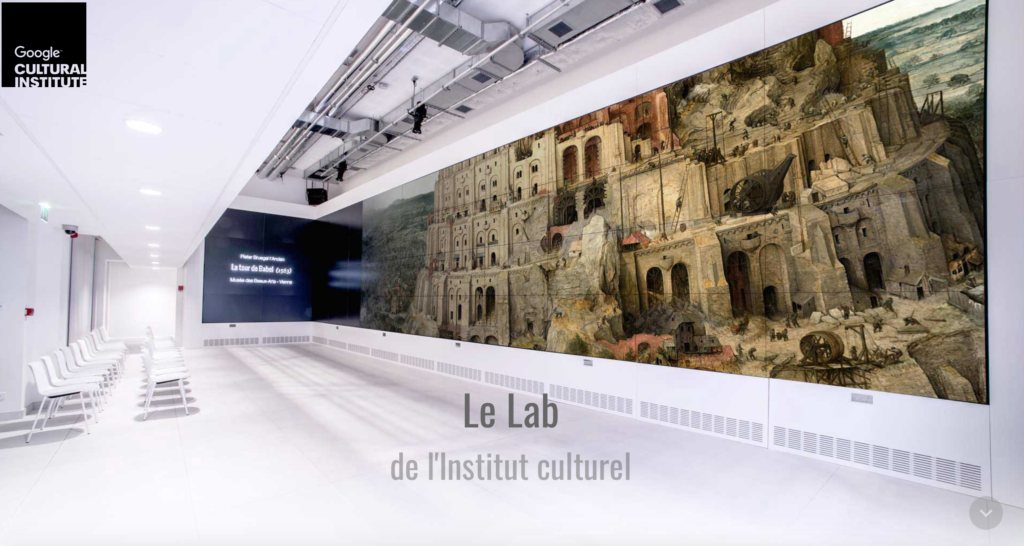 During his speech, Gaveau explained and showed how some ideas developed in his Lab could be used in fashion.
Here are some examples.
Google's Art camera, for gigapixel photographs and videos
Have you heard about the Art camera, the camera invented by Google? This innovative camera captures a masterpiece in its smallest details thanks to its strong precision and was created to help museums conceive and publish gigapixel pictures of their masterpieces.
This innovative camera could be a great tool for fashion museums as well to get a closer look at, for example, the precious handcrafted work on a couture piece without damaging it. By the bye, the Cité de la Dentelle et de la Mode in Calais used this camera on one of its Balanciaga Haute Couture ball gowns and the result was stunning.

Besides, this camera can be a great way to pay tribute to the technicity and the precision of the crasftmen's work … in augmented reality of course !
Augmented reality to undersand a Couture piece… relevant.
Tilt Brush, or the art of 3D painting in Virtual Reality
Another innovation was mentioned during this festival : the Tilt Brush, a 3D paint in virtual reality. This tool enables artists and designer to draw their art pieces and sketches in 3D, in a 360 degrees field of vision.
This innovation could be very useful for fashion stylists and designers since their sketches would look more realistic with this tool. Interesting.
We Wear Culture, or the Digital Museum of Universal Fashion
Google Art & Culture clearly showed its interest for fashion with its amazing project We Wear Culture in 2017.
This project highlights 300 years of history around clothes, which are precisely the incarnation of the diverse civilizations throughout centuries.
Symbols of history, codes, traditions, clothes are one of the most significant representations of the different cultures of the world.
Google Art & Culture pays tribute to them with technology. Thanks to it, this cultural and universal heritage is, for now on, accessible for free for everybody, on the platform g.co/wewearculture.
Not only does this platform retrace the history of clothing, but it interests itself to the link that unites fashion and art. It focuses on iconic fashion designers, on craftsmanship around the world, on innovations in the fashion industry… It even enables us to visit the backstages of renowned fashion museums such as the MET in New York.
By the way, the Balanciaga ball gown I mentioned earlier is also presented in that project.
To make this big project come true, Google associated itself with 180 cultural institions in the world that allowed Google photograph and film, in very high def, some of their pieces and archives to make them visible on Google's We Wear Culture platform.
Virtual reality, very high def pictures, 360 degrees videos, audio supports… Google's Cultural Institute uses the latest technology to create immersive digital exhibitions available for everyone. This is definitely an excellent project.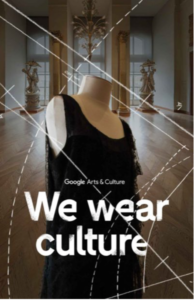 Museums are digitalizing themselves and fashion is more and more exhibited in these museums. Artificial intelligence, holograms, virtual reality… All these innovations push back the boundaries of artistic creation, and contribute to the access of culture for everyone.
Arts, culture, couture. We surely expect outstanding projects with this trio and tech in the future. For our greatest pleasure.
For more about Fashion, visit my Pinterest boards about craftsmanship, street styles and editorial fashion photography.