The house Hermès maintains a particularly interesting relationship with new technologies – its collaboration with Apple for the Apple watch Hermès is a tangible example of its avant-garde approach in this field.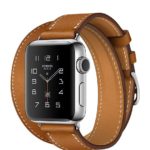 What about its relationship with digital arts?
For many years, the house Hermès has been using arts to create certain of its communication projects. Artist in its soul, this house has always stayed faithful to the values that it defends, which are related to artistic and hand-crafted creations, in all their forms, and everywhere in the world.
Therefore, this house naturally joins itself regularly with artists to create ephemeral projects, and these collaborations can sometimes, happen with digital artists.
Let me show you some beautiful projects that happened between Hermès and digital arts.
9 Dresses
In October 2016, for its exhibition "The View From Her" at the Beijing Minsheng Art Museum (in China), the house Hermès collaborated with American postmodern choreographer Luncinda Childs to present, in an innovative way, 9 dresses from the house's latest ready-to-wear collection (Fall-Winter 2016-17).
For this event, Childs created a ballet entitled 'Ensemble for Nine dresses'. This ballet was filmed and edited by BK Digital Agency, a studio specialized in audiovisual content and new technologies. The result: a beautiful video composed with a mix of virtual and real footages, all perfectly synchronized .
The house actually regularly collaborates with this studio for the retransmission of its fashion shows.
Other beautiful collaborations:
Hermes x Karine Laval : during the summer 2016, French – Canadian and New-York based digital artist, Karine Laval dressed up one of Hermes' perfume boutiques  windows in New York with her projected and animated creations from the Project « Heterotopia ».
8 Ties : Hermès associated itself with digital artist Miguel Chevalier in in 2012 to present, in 20 cities in the world, the universe of the house's silk ties through a generative and interactive virtual reality system. Wonderful.
What's next for Hermès and digital arts?
Visit my Pinterest boards for more about creative store windows and fashion shows.